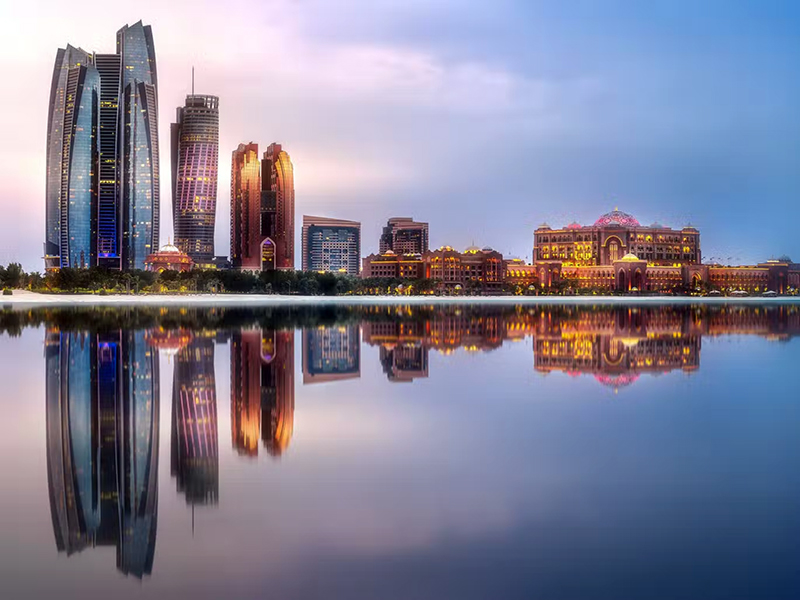 Abu Dhabi is the capital of the UAEand one of its richest cities. The population of the emirate is growing rapidly, which increases the demand for real estate in Abu Dhabi. More and more foreigners are moving to Abu Dhabi and investing in local housing. So far, the cost of housing in Abu Dhabi remains affordable compared to similar facilities in major cities in the US and Europe. A wide range of offers allows you to choose real estate in the emirate for every taste and budget.
Property for sale in Abu Dhabi, UAE
The real estate market in Abu Dhabi offers foreigners all popular types of housing, ranging from compact studio apartments to spacious penthouses, duplexes and luxury villas. The most popular option is two-bedroom apartment units with several bathrooms. These apartments are a perfect solution for families. Having enough space for organizing a workplace, detached houses and townhouses are also a popular choice.
There are several trends in Abu Dhabi's booming housing market:
High demand for luxury properties. The current demand observed in Abu Dhabi's luxury housing sector exceeds supply.
Increased interest in beachfront houses. Most property hunters choose the coastline, where you can buy housing in Abu Dhabi for investment with an almost 100% guarantee of high demand from tenants. Seaside housing is also popular among those who are looking for a buy-to-live option.
Demand for land. Many foreign investors prefer to purchase land and order a housing project that will suit their requirements. In this case, the customer can have a truly unique project, and its value will grow in the future.
Popular areas
Foreigners are eligible to buy property in Abu Dhabi in many areas. Since 2019, non-residents are allowed to purchase housing in the capital in full ownership. Before that, foreigners were offered only long-term rentals. The most popular freehold areas among foreigners include:
Reem Island, an island where most of the population is expats. In addition to housing, the emirate's business center offers a wide range of commercial and retail properties.
Yas Island is a man-made island famous for its entertainment facilities. Real estate here is in demand as an investment, as it is a popular tourist destination throughout the year.
Saadiyat Island is the cultural and leisure center of the metropolis. It is home to luxurious properties: spacious apartments and beachfront villas.
Abu Dhabi is a neighborhood that has several large educational institutions, many five-star hotels and luxury apartments.
Ghantoot is a community located close to the border with Dubai. Among its advantages are a spacious wilderness area and a large marina. Here you can find off-plan property in Abu Dhabi for foreigners at affordable prices.
Al Mariya Island is an island in the northeastern part of the city. In addition to the residential sector, the island houses large shopping centers and hotels.
Marina Island is another man-made island located near the presidential palace. In this community, you can buy an apartment in new projects in Abu Dhabi.
Al Raha Beach is a coastal community with modern apartment projects. In addition to luxury housing, here you can find studio apartments at relatively low prices.
Masdar City is a sustainable community where apartments are the most popular property options. The housing are equipped with renewable energy sources and other innovative solutions.
Masdar City is a sustainable community where apartments are the most popular property options. The housing are equipped with renewable energy sources and other innovative solutions.
Nurai Island is Abu Dhabi's luxurious neighborhood. Wealthy home buyers who value privacy and comfort choose properties in this gated community.
There are also many yet undeveloped areas in the capital of the UAE. Therefore, it is expected that the list of areas with real estate available to foreigners will expand.
Property prices in Abu Dhabi
Real estate prices in Abu Dhabi are still lower than in Dubai. This is primarily thanks to the fact that the emirate has only recently lifted a ban on the purchase of real estate by foreigners. Real estate prices in Abu Dhabi today start at around AED 700,000 (about USD 200,000, CNY 1.356 million). This is the average price for one-bedroom apartments. Luxury properties are sold at AED 30 million and more (USD 10 million, CNY 67.8 million). In general, housing prices in the UAE are gradually rising, therefore we recommend you to check the prices right before buying.
Investment property in Abu Dhabi
One of the main reasons to invest in real estate in Abu Dhabi is high returns on investment. They reach 7-8% per annum, which is higher than in Dubai. The reasons to choose the capital of the UAE for investment include the following factors:
Economic attractiveness. The emirate has recently started to develop actively, so the potential for its growth is significantly high. With a medium and long-term investment strategy, you can get a considerable profit.
Tax-free policy. There are no taxes on rental income in the UAE.
Active development of the tourism sector. Dubai is gradually ceasing to be the only attractive region of the UAE for foreign tourists. This increases the demand for housing in Abu Dhabi, the next most popular destination in the UAE.
The ROIs depend on the size of an apartment, its location, how prestigious the community and residential project is.
We will help you buy property in Abu Dhabi
Our property database offers housing for sale in all popular areas of the main metropolis of the UAE. All property listings from local agencies and developers include the latest prices and other important details. You can choose prices in euros and dollars. We regularly update the database to ensure you the best deals. Our website also provides up-to-date information on the real estate market in the UAE as well as useful tips for those who choose apartments in Abu Dhabi. Contact our experts and we will help you find your dream home!